Most events are installed on their deadline date, unless there is a long submission window or unless it's a rolling submission.
P=Poetry, N=Nonfiction, F=Fiction
PFN – Longleaf Review Seeks Submissions for the Wayback Issue
August 31 @ 8:00 am

-

5:00 pm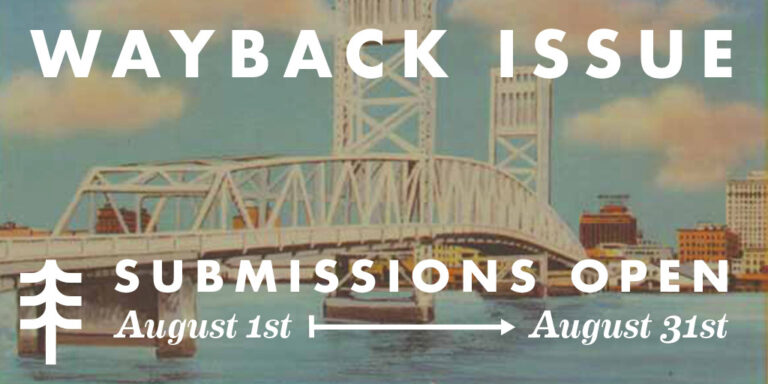 What do you miss? Who do you long for? What lies buried in the past that you wish you could reclaim?
We're calling this the Wayback Issue, a space where past and present collide, a place to rest in restlessness. Give us your take on wayward youth and liminal adolescence. Throw some light time travel our way. Don't be afraid to get a little speculative, a little retro, a little sci-fi. Revise history — new endings most welcome. Tell us about your firsts, your lasts, your just-can't-get-you-out-of-my-heads.
Show us the dark side of nostalgia, all its risks and rewards. There's a danger to romanticizing the past, and we're interested in that too — the ways that wistfulness can poison and uplift in equal measure. Tell us: If you lose yourself to the bygone entirely, can you still find your way back? But also: What don't you want to go back to? What do you wish could be left behind?
Lay down your burdens, your unwrittens, your words waiting patiently with their hands raised high, willing themselves to be called on. For the next issue of Longleaf, we'll read it all.
Guidelines
Please review our guidelines. It'll make us super happy (and way more likely to publish your brilliant writing).
You can submit work in one category per submission period. We accept poetry, fiction (1 piece 500 – 5,000 words, or 1 – 3 pieces no more than 500 words each), creative nonfiction (1 piece 500 – 5,000 words, or 1 – 3 pieces no more than 500 words each), and hybrid (image-prose and image-poems). Please include your name, pronouns, and any relevant content warnings on the first page of your submission.
We prioritize #OwnVoices submissions, so if your work centers the knowledge or experience of a marginalized group, please also include an identity statement on the first page so we know your relationship to that group.
Generally, we only accept unpublished work. However, if you pulled your work because of harassment or bigotry, we'd like to consider it. Please explain your work's publication history (to the extent that you're comfortable) on the first page of your submission.
We've pledged with VIDA's #saferLIT campaign. This means we don't tolerate or accept anti-Semitism, racism, sexism, misogyny, transphobia, homophobia, fatphobia, Islamophobia, xenophobia, or stories that in any way perpetuate negative stereotypes.
We accept simultaneous submissions, but if your submission is published elsewhere, please let us know by withdrawing it in Submittable. If you need to withdraw one part of your submission but not the whole thing, send us a message in Submittable.
We take one-time nonexclusive electronic rights and archival rights to your work. At this time we don't provide contracts. By submitting to us, you're agreeing to the above terms.